Cathy Lu Featured in Wall Street Journal, ARTnews, The Observer and More for Armory Presentation
September 11, 2023 03:45 PM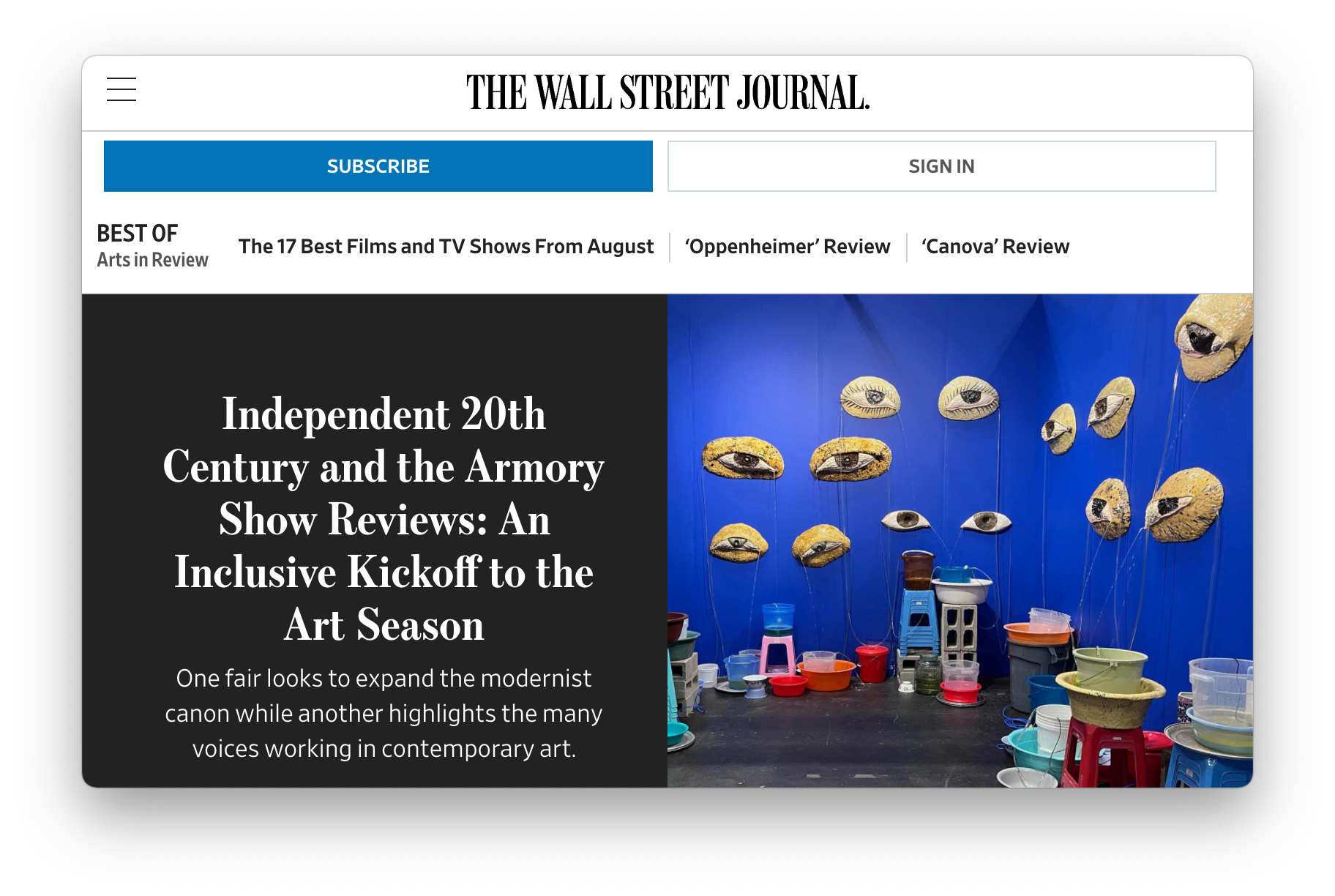 Cathy Lu's Peripheral Visions installation at The Armory Show was featured in five publications for best booth at The Armory.
READ
Cathy Lu's Peripheral Visions installation at The Armory Show was featured in five publications for best booth at The Armory.
"This booth, arguably the most visually stunning one of the entire fair, is filled by a single installation: Peripheral Visions (2022), an expanded version of which previously appeared at San Francisco's Chinese Culture Center last year.
It would be easy to read Lu's installation as a representation of the sadness felt amid a recent surge in violence against Asian Americans, but the work is more complex than that. The soothing burble of water spewing into buckets and bowls—all of them based on Lu's grandmother's kitchenware—provides a respite in a chaotic world."
— ARTnews
READ
"Cathy Lu's installation at Micki Meng's booth drew on her Chinese-American identity to riff on the idea of "white tears," with sets of ceramic eyes—based on real faces, from the artist's own to Michelle Kwan's—streaming yellow water into buckets on the floor. It was a highlight of the fair, both humorous and touching, a painful reminder of the recent spate of anti-Asian violence and that demographic's struggles over the centuries."
— Wall Street Journal
READ
"Micki Meng's transfixing booth is dedicated to the immersive world of California-based artist Cathy Lu. Entitled Peripheral Visions, the installation presents an allegorical garden irrigated by wall-mounted, tube-directed tears. Lu repurposes the Chinese tradition of spatial harmony, in which gardens often feature water elements for completeness. Beyond fatalism, we see Lu's willingness to process trauma and anti-Asian hate and aspire to healing through sorority and friendship."
— The Observer
READ
"Royal blue walls are adorned with differently-sized eyes that pour watery tears into utilitarian buckets of all shapes, colors, and sizes, which are scattered around the space. The work, meant to capture the sensation of "emotional release," is astonishingly complex, both conceptually and logistically."
— Whitewall
READ
"Entitled Peripheral Visions, the installation of ceramic eyes covers the walls and spills onto the floor, quite literally as water trickles out of each one into assemblages of buckets balanced underneath. Representing the artist's eyes, as well as others of famous Asian women, the work reimagines Chinese garden waterfalls. It also provides a calming backdrop to the bustle of the fair."
— Artillery
READ